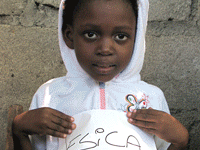 Hunger has a face
Poverty has a name


January 11, 2010 was a day of great joy for Operation DREAM. After months of hard work and weeks of red tape, the first 8,000 pounds of food that was shipped to the poor in Santiago, Dominican Republic was finally released into Primo's hands! But the celebration was short-lived. Less than 24 hours later, the world watched in disbelief as Haiti was slammed by the tragic earthquake. Our outreach to the Dominican Republic had extended into Haiti overnight.

Within days, Primo loaded his father's old pickup truck with Operation DREAM food and drove three hours to the Massacre River, a natural border between the D.R. and Haiti. There he met a man that led him to a small orphanage, clinging to life, in the town of Ouanaminthe, Haiti. There, a very thin Haitian widow named Madame Mouivette, and her adult-age son and daughter are the caretakers of more than fifty little Haitian boys and girls - orphans ranging in age from 1 to 12 years old. The locals call them "throw away kids." They all live together in a small enclosed compound. The house looks like it has been abandoned for years...no plumbing, no electricity, missing and broken doors, filth and debris everywhere. Most of them truly have no mother, father or known family members. Some of them were left at the front gate by desperate mothers. All of these children face a daily struggle to survive. That's where we learned that hunger has a face and poverty has a name.

When Primo arrived with a truck full of rice, beans, and canned meat, Madame said that Operation DREAM was the first to respond after the quake. Their worries faded away...for a few days.
Although the property did not suffer structural damage (the earthquake was centered eight hours away in Port-au-Prince), this orphanage received no regular support, other than Operation DREAM. Since January 2010, Primo has been making the journey every month to share the food that was originally sent just for the slums of Santiago, D.R.
In July of 2010, George, Argie, Karin, and Daniel made the journey from Los Angeles, CA to visit these precious kids that they were working so hard to support. The 2010 mission trip was a great success: With help from fellow missionary Robin Cho and local volunteers, they built wooden bunk beds, replaced 35 mattresses, installed a water pump, and built a swing set in the middle of the dirt yard. Dr. Enriquillo Vargas examined every child and reported each one, without exception, suffered from parasites and other medical issues. Fortunately the medicine brought in on a follow-up visit seems to be working.
It was life-changing to meet these amazing children, born in one of the poorest countries in the world, enduring with a smile oppressive conditions, extreme heat, and little hope of escaping their prison of poverty. A lifetime of malnutrition has stunted their growth. Yet more than food, medicine, and new clothes, what they wanted most from us is to be held, to be loved, and to feel wanted...if only for a few days. When it was time to leave the orphanage and return to the states, we gave the children the best gift we could think of: The promise that Operation DREAM would not forget them.
Please help us keep the DREAM alive.